Can the government turn local people into planners?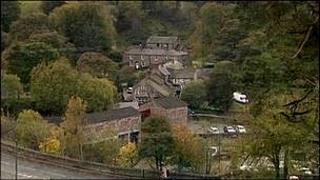 There was more than just tea brewing when I visited a café in the Northumberland village of Allenheads this week.
Because as well as perusing the menu, villagers were gathering to begin the process of transforming themselves into planners.
Their parish is one of the pilot areas for the government's neighbourhood planning idea.
Over the next few months they will draw up a plan for what they want to see and what they don't want to see in their area.
Rural problems
But this will not just be a wish list. If the government's localism bill becomes law, their plan will have to be taken into account when any development is proposed in the area.
For villagers in Allenheads and neighbouring villages, it represents an opportunity to tackle some of the problems that face a rural and remote community, and make sure it survives and thrives.
Some there hope they can draw up a plan to develop more affordable housing, and encourage small rural businesses to locate in the area.
Leonore Frear lives in the area. She is also a director of Sustainable Allendale, a community group set up to improve life in that part of Northumberland.
She said: "We're the people who live here, we're the people who have to use the services, we're the people whose children go to school here.
"We have the real understanding of what we need and what we expect for the future.
"Therefore, it is absolutely fundamental that we are involved in this process."
Concerted opposition
But there are some in the countryside who fear that communities might not always get their way.
Neighbourhood plans will have to work alongside the plans of the local council and national planning policy.
And the government is currently facing concerted opposition in rural areas to its proposals for a national framework.
Ministers want a presumption in favour of sustainable development in the planning process.
That's fine if you do want to see new homes and business premises built, but what if you want to preserve your village and protect it from development?
The Campaign to Protect Rural England (CPRE) is concerned that won't be possible.
Richard Cowen, the North East regional chair, said: "The CPRE supports the idea of neighbourhood planning.
"The problem we seem to have is the government is only encouraging it if communities are minded to develop, and do what the government wants.
"If they want to protect their environment, and prevent development, I don't think neighbourhood planning will help them at all."
Pilot areas
Neighbourhood planning isn't just being tested in the countryside though.
The Fish Quay in North Shields is another pilot area.
The local neighbourhood planning board has been formed from a range of residents and businesses.
And its members would like to see further development to encourage regeneration.
They're hoping their plan will help to find new uses for derelict buildings and bring more visitors to the quayside.
But they are at an early stage, and there is a lot to chew over.
Like the other communities in the pilots, they are being asked to draw up what has to be a legally watertight planning policy.
That is usually the preserve of qualified council officers, and for that reason local authorities have been given extra money to help support the communities as they draw up the plan.
Officers are spending significant chunks of time with the groups to help them get through the process.
Big challenge
The problem is if neighbourhood planning was rolled out across the country, that level of support would be impossible to provide without a lot of extra resources, the kind of money the government is unlikely to provide.
Mark Shucksmith, professor of planning at Newcastle University, said: "One of the questions which arises if neighbourhood planning is going to be rolled out beyond the pilot stage is how can councils possibly support them all?
"They can't do that at the level of support they are giving to the pilots, and also to what extent might this be a distraction from other things which are also very important at this time?
"I hope there are answers to that but it is going to be a big challenge."
Of course, it's those problems which pilots are designed to iron out, and it'll be many months before anyone can judge whether they have worked.
Few will also quibble with the idea of communities directing their own destinies.
But what's still debatable is whether the government's neighbourhood planning idea can really deliver that.