English Channel drugs case: Four jailed over £9.8m haul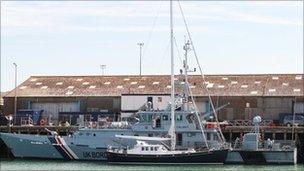 Four men have been jailed for trying to smuggle cannabis worth an estimated £9.8m into Britain on a luxury yacht.
The vessel is believed to have set off from north Africa and came under the suspicion of the UK Border Agency when it was spotted off Falmouth, Cornwall.
The 56ft yacht was tailed for 12 hours before being intercepted and escorted into Newhaven Harbour in East Sussex.
The men were sentenced at Lewes Crown Court after admitting possessing a Class B drug on board a ship.
Crew members Al Turner, 53, of Attleborough, Norfolk, Mark Timothy, 59, of Clacton in Essex and skipper Johna Bouma, 64, from Amsterdam, were each jailed for nine-and-a-half years.
Franciscus De Geus, 66, of Amsterdam, who is suffering from terminal cancer, was jailed for five years.
Investigators found 3.5 tonnes of the drug stashed in holding tanks of the Dutch-registered vessel on 24 July.
The haul represents the second largest cannabis seizure in the South East so far this year, said the border agency.
Judge Anthony Scott-Gall told the men: "You were playing for very high stakes and you lost, and you will have to pay your debt to society by way of punishment."
Related Internet Links
The BBC is not responsible for the content of external sites.