Pilots at Heathrow report rise in laser incidents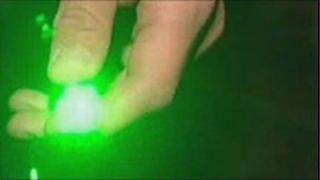 The number of planes flying to and from Heathrow that have had laser pens shone at them has nearly trebled, according to the Civil Aviation Authority (CAA).
Incidents have been reported by pilots flying over Berkshire, including in the Upper Lambourn area last Wednesday.
Jonathan Nicholson, from the CAA, said in 2009 there had been 29 incidents, whereas in 2010 there had been 86.
Mr Nicholson said shining laser beams at aircraft was "endangering people's lives".
'Destroying night vision'
"If you shine a very bright laser into the cockpit you are destroying that person's night vision for a couple of seconds.
"That could be vital, especially in bad weather or if the plane has a problem with it."
Mr Nicholson said the lasers being shone at pilots were not "pens", but stronger lasers which were not available on the high street.
The lasers are used for legitimate reasons by scientists and astronomers, and can be bought on the internet.
"It's a world-wide scenario that these incidents have risen dramatically," he said.
"We think we've seen a doubling throughout the UK this year."