Liz Longhurst: Violent porn law 'ineffective'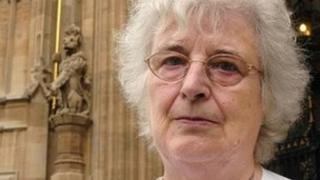 A woman who fought for a ban on violent online pornography after her daughter's murder has said she is disappointed it has not been more effective.
Liz Longhurst welcomed the legislative change preventing the possession of some extreme pornography when it was introduced in 2009.
In 2003 her daughter, Brighton music teacher Jane Longhurst, was strangled by Graham Coutts, of Hove, Sussex.
Coutts, who was obsessed with violent pornography, was jailed for life.
The ban became part of the Criminal Justice and Immigration Bill, and anyone caught with sexually violent images faces up to three years in jail.
'Very few cases'
Mrs Longhurst, from Reading in Berkshire, said: "I was glad that the law had been passed in 2009 but I did not feel it was necessarily going to have a tremendously marvellous effect.
"I was rather surprised that really very few cases have been brought. There have been lots of cases of child pornography but not many with adult pornography."
Mrs Longhurst said she was "very sad" to discover the man who murdered landscape architect Jo Yeates had viewed violent pornography on the internet.
On Friday Vincent Tabak, 33, was jailed at Bristol Crown Court for a minimum of 20 years for strangling the 25-year-old.
Tabak had watched violent sex films online but the details were not disclosed to jurors.
A spokesman for the Crown Prosecution Service said: "Where we can we will charge and prosecute such offences robustly.
"There may be some cases where alternative charges that carry a greater penalty may be more appropriate."