RAF death crash pilot Robert Hamilton admits neglect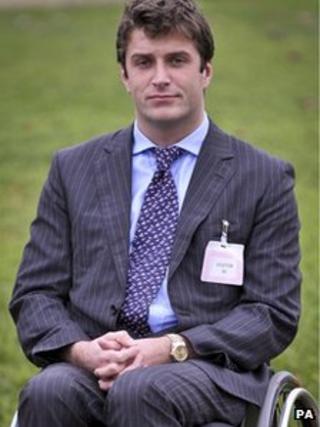 The co-pilot of an RAF helicopter that crashed during a low-flying manoeuvre, killing the pilot and two others, has admitted negligence.
Flt Lt David Sale, Sgt Phillip Burfoot and Pte Sean Tait died in the crash in North Yorkshire in August 2007.
Ex-Flt Lt Robert Hamilton, who was severely injured in the crash, admitted neglect in flying likely to cause loss of life or bodily injury.
He is due to be sentenced at a military court in Wiltshire on 16 December.
The helicopter crew was based at RAF Benson in Oxfordshire.
Sgt Burfoot, 27, from Cardiff, and Flt Lt Sale, 28, from Norton, on Teesside, were killed in the crash in a field near Catterick Garrison. They both served with 33 Squadron.
Seventeen-year-old Army recruit Pte Tait, of Castlemilk, Glasgow, died from his injuries two days later.
Broken back
He had been undergoing training in the Royal Regiment of Scotland Company of the 1st Infantry Training Battalion at the Infantry Training Centre, Catterick.
Twelve servicemen were on board the £20m Puma aircraft, which was on a trooping exercise at the time, including three from the RAF and nine soldiers.
Appearing at the military court centre in Bulford, Wiltshire, Hamilton was told a further charge of wilful neglect would lie on the file.
The charge stated that Hamilton failed to ensure the mission was executed in a manner which minimised the risks to the aircraft, its occupants or the general public over whom the aircraft was flown.
It added that he also failed to advise the aircraft commander accordingly and if necessary to offer specific guidance to avoid hazardous situations.
Vice Judge Advocate General Michael Hunter said Hamilton's sentence would be decided by the judge along with a board of five RAF officers.
Hamilton left the RAF after the accident and now works for a company involved in the aircraft industry.
He is now a paraplegic after breaking his back in the crash.