Men in court accused of slavery offences after police raid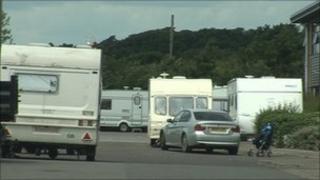 Three men accused of slavery offences after a police raid on a travellers' camp have appeared in court.
About 120 officers searched caravans and vehicles at the site in Ensign Way, Hamble, Hampshire, in June.
Jerry Conners, 19, from Wiltshire, John Conners, 26, from Hampshire and William Conners, 34, from Nottingham, appeared before Southampton magistrates.
All three of the defendants were bailed and are due to enter pleas at the city's Crown Court on 9 January.
Jerry Conners, of Beechfield Road, Swindon, John Conners, of Thomas Lewis Way, Southampton, and William Conners of Bestwood Road, Nottingham, have been charged with offences under Section 71 of the Coroners and Justice Act 2009.
It created an offence of holding someone in slavery or servitude, or requiring a person to perform forced or compulsory labour.
Charges against Eileen Conners, 59, of Oaks Caravan Park in Abingdon, Oxfordshire, were dropped.