Wiltshire-based sergeant jailed for stealing medals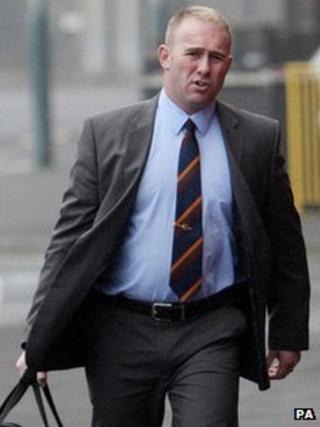 A soldier who stole medals from his colleagues' bedrooms and sold them on eBay has been jailed for five years.
The judge at Swindon Crown Court said Gordon Hill, 37, had broken colleagues' trust "in the most disgraceful way".
The court heard Hill, of Darlington, Co Durham, took the medals at Battlesbury Barracks in Warminster, Wiltshire, between 2008 and 2010.
The court heard the sergeant had served in Northern Ireland, Kosovo and Afghanistan during his 22-year career.
He was convicted of of seven burglaries, 12 counts of fraud and one theft at an earlier hearing.
Serving soldier
The court heard Hill, of Nursery Lane in Darlington, stole a rare Sierra Leone medal, and others marking conflicts in Iraq, Afghanistan and Northern Ireland before auctioning them online.
He was caught after a buyer realised she had bought decorations belonging to a serving soldier.
During his trial last month the father-of-two, who had served with the Duke of Lancaster's Regiment, claimed his eight victims had asked him to sell the medals for them and he had given them the money.
Jurors found him guilty of 20 charges.
Hannah Squire, prosecuting, told the court that Hill had received £6,936 from selling the medals to unsuspecting collectors, including one in New Zealand.
"The vast majority of the medals in this case are campaign medals, medals awarded to the soldiers to mark their services to this country," she said.
"These medals, as you heard from the soldiers, represent more than just recognition of their service.
"To some they are the physical embodiment of what they had to go through to get them.
"To some they represent close friends and colleagues they lost in action."
'Chilling reminder'
In a statement read out to the court, one victim, speaking of his Afghanistan medal, said: "It's the most important medal I have. We lost five from my own battalion and three from my reconnaissance force.
"My Afghanistan medal serves as a chilling reminder of the price we pay for freedom that we take for granted."
Another soldier had said he did not plan to attend this year's Armistice commemorations because he did not have his medals, the court heard.
Alex Daymond, defending Hill, said: "Mr Hill continues to deny responsibility for these offences and he maintains, as he did during his trial, that he was approached by these soldiers and asked to sell these medals.
"His career has been lost to him. It has come to a rather premature and sad end and he will have to face the disgrace of discharge."
The court heard Hill had been court martialled twice for taking things from other soldiers.
Jailing him, Judge Douglas Field said: "The victims of the burglary and theft were no less than your fellow sergeants.
"They had every right to believe their medals would not be stolen. You have broken that trust in the most disgraceful way."
He said he was pleased to hear that the victims would get their medals back.