Men arrested after Breaston factory fire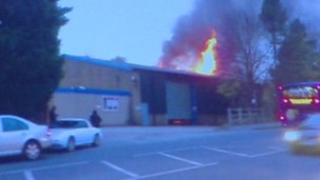 Two men have been arrested after a fire at a factory in Derbyshire.
The blaze on Draycott Road in Breaston was reported at about 16:00 GMT and took fire crews several hours to put out.
Nearby residents were warned to stay indoors and traffic was diverted as officers fought to control the flames.
A hazardous material officer was called to the scene to check cylinders caught in the blaze but they were deemed no risk to the public.
The men, one in his 30s and one in his 40s, were arrested by officers searching the streets around the factory following the fire.
The men remain in custody and will be questioned by police.