X Factor agrees to make donation to Rhythmix charity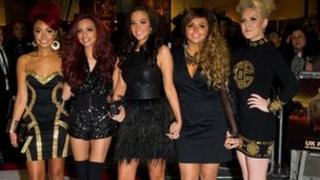 Simon Cowell's company has agreed to make a donation to a music charity that successfully forced an X Factor act to change its name.
Syco was in a dispute with the charity Rhythmix over naming rights after one of the girl groups took the same title.
The Brighton-based charity, which has been operating in Kent, Surrey and Sussex for 10 years, claimed the trademark row had cost it £8,000.
The girl group agreed to change their name to Little Mix.
A statement on behalf of Syco and Rhythmix said the matter had been "positively resolved".
'Amicable conclusion'
It added that Syco had been "happy to make a donation to the charity".
The charity, which provides music tuition to children, had argued X Factor's use of the name would cause confusion.
It hired lawyers and wrote an open letter to Simon Cowell asking him to intervene after the mix-up was revealed.
When the X Factor agreed to change the band's name to Little Mix, the charity called on Syco to help cover its legal bill.
The charity's chief executive Mark Davyd said: "We are very pleased this has been brought to an amicable conclusion."
The charity would not comment upon the size of the donation.