How Brighton charity Rhythmix won X Factor battle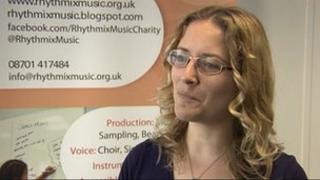 Brighton charity worker Lucy Stone was celebrating her birthday on a camping weekend when mysterious text messages started arriving about X Factor.
Friends watching the Saturday night ITV show had seen a girl band, Rhythmix, put together by judge Tulisa Contostavlos from individual contestants.
Ms Stone, strategic director of a music charity also called Rhythmix, said: "They were saying: 'We didn't know you were managing a girl band now'.
"We didn't know what they meant, but by the time we got back it was clear what was happening."
X Factor had not only used the same name as the charity for its band but had also applied to register the name as a trademark in Europe.
The charity, which started in 1999 and operates across Kent, Surrey, and Sussex, feared it would be confused with the show to the detriment of its work with disadvantaged young people.
It had to engage lawyers to take on Simon Cowell's company Syco, which makes the show, but after seven weeks it has won a classic David and Goliath battle.
Following a campaign which attracted tens of thousands of supporters on social networking sites Facebook and Twitter, it first forced the band to change its name to Little Mix.
Brighton Pavilion's Green MP Caroline Lucas then took up the cause.
Now the matter has been settled once and for all with Syco making a sizeable donation to the charity to cover its legal costs of £8,000.
Ms Stone said she was not allowed to reveal the exact amount of the donation but reports that it was £20,000 were incorrect.
The charity operates from an office in Brighton and, with an annual income of £350,000, partly from the National Lottery, helps about 2,500 people in the South East every year.
Some are severely disabled and some are young carers, while others are young offenders or pupils excluded from mainstream schools.
It develops their personal and social skills through music at workshops held in venues including youth centres, care homes and young offenders institutions.
Music production, singing, song writing and playing an instrument are all tackled, with each 10-week course ending with a live performance.
"The musical outcomes are taken as a given," said Ms Stone, "but we also think the other skills are really useful.
"They gain self confidence and self expression and literacy and numeracy skills through counting out the music and writing lyrics."
She said the charity was thrilled with the outcome.
"We can now ensure that every penny the public has given us will go towards working with vulnerable people.
"This is not how we would have chosen to be thrown into the limelight but there are certainly some positives we can take away."
One small but gratifying outcome is that she no longer has to spell out Rhythmix to everyone.
"Now everyone knows our name - which they didn't before."
A statement issued on behalf of Syco said the matter had been "positively resolved" and that the company was "happy to make a donation to the charity".