Universities in Kent and Surrey combine in CGI lesson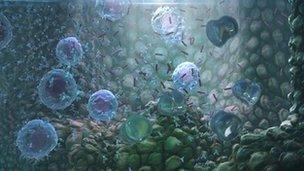 Two universities in the South East have combined to help students visualise the workings of the immune system using computer generated images.
The University for the Creative Arts (UCA), which has campuses in Kent and Surrey, has collaborated with the University of Kent.
Students at UCA studying computer animation were tasked with creating films explaining biological processes.
These have been used to teach students at the University of Kent.
Michael Poraj-Wilczynski, associate dean at UCA, said: "Both universities were excited to see whether traditional science textbook illustrations could become enthralling computer-generated animations that could communicate scientific information accurately to a wide audience."
The students, whose videos can be seen on the Spectacular Science blog, used influences from Disney films and silent cinema to create several films.
These ranged from how the body fights infection to the lifecycle of a mushroom.
Dr Peter Klappa, senior lecturer in biochemistry at the University of Kent, said: "It is absolutely amazing to see these projects growing and developing.
"I never thought it possible to have such a symbiotic link between biological sciences and animation.
"I now use these animations in my teaching and the students absolutely love them."
Related Internet Links
The BBC is not responsible for the content of external sites.