Live export protesters call for Ramsgate blockade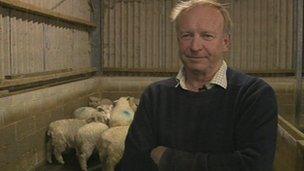 Campaigners against live animal exports from a Kent port are calling for blockades to try to stop the trade.
A public meeting in Broadstairs is being told direct action is the quickest way to stop live animals being exported from Ramsgate.
"By taking peaceful direct action and stopping the animals getting to the port there will be no exports," said Thanet councillor Ian Driver.
Farmer Frank Langrish said all animal movements were strictly controlled.
The National Farmers Union spokesman said the vehicles they travelled in were "superb" and were fitted with drinkers and fans.
Keith Taylor, Green MEP for the South East, and Laura Sandys, Conservative MP for South Thanet, are among the speakers at Saturday's meeting.
RSPCA and Compassion in World Farming are also addressing people at Queens Road Baptist Hall.
"Ramsgate is the only port in the UK where any significant animal export is taking place, but we want to stop it right across the country," said Mr Driver.
"We are calling on people to join us to take more direct action and try to physically stop the lorries getting to the port.
"There is nothing nice, there is nothing humane or acceptable about the barbaric and cruel treatment of stuffing hundreds of animals into lorry trailers and taking them across Europe."
National Farmers Union spokesman Mr Langrish, who raises Romney Marsh lamb in Winchelsea, East Sussex, said he had no sympathy with the campaigners.
"The regulations involved in moving animals anywhere either within the British Isles or across borders are very strictly controlled," he said.
"The vehicles they travel on are superb. They are fitted with drinkers and fans to control the temperature.
"Before the animals can travel outside the British Isles they have to be veterinary inspected to make sure they are all fit and healthy."
Animal exports from other ports were halted after protests during the 1990s, but Mr Langrish said Dover would be the best exit point.
"The most logical place to ship animals would be the shortest sea route which is Dover," he said.
"The ideal situation would be that they could travel on larger freight ferries at night so they could be moved more quickly."
Related Internet Links
The BBC is not responsible for the content of external sites.