Can Midlands firms manufacture new hope for economy?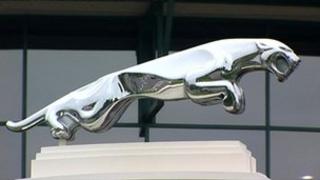 There can be few people better qualified to tell us some home truths about the state of our economy than Baron Kumar Bhattacharyya of Moseley.
Born in what is now Bangladesh, he came to Birmingham in his twenties and has since emerged as one of Britain's most influential authorities on economic and industrial policy.
Since founding the world famous Warwick Manufacturing Group at the University of Warwick 41 years ago, 'the professor', as he known to everyone on campus, has coaxed, cajoled and sometimes needled British manufacturing industry into heeding the lessons of globalisation.
Manufacturing growth
In 2008, Jaguar Land Rover was on the brink - the company even had to appeal for State Aid to tide it over.
Since those dark days, its fortunes have been transformed, with profits calculated not in millions, but billions of pounds.
One thousand new jobs are being created to cope with demand at its Castle Bromwich and Solihull plants and its £335m engine plant in the Black Country Enterprise Zone is expected to create 2,000 skilled jobs on the outskirts of Wolverhampton.
What's less well known is that Lord Bhattacharyya has played a key role in the turnaround.
Three years ago he was the link man who inspired JLR's successful transfer from American ownership under Ford to that of Ratan Tata in India.
Leadership and courage
I caught up with 'the professor' in one of his hi-tech workshops in the heart of the Warwick campus where JLR and Tata currently have 350 research and development staff working on the next generation of their top selling brands.
"Why can't other Midlands firms be equally successful?" I ask.
"They can!" he enthuses.
"It's just about leadership and courage."
And of course there are other world leaders here in the Midlands.
JCB of Rowcester has just announced 350 jobs spread between its plants in Staffordshire, Derbyshire and Wales to work on its new generation of engines.
But Lord Bhattacharyya acknowledges that beneath the high achievers lies a very long tail of under-achieving companies.
Countless others have gone to the wall having failed to keep pace with increasingly competitive global markets.
Job opportunities
"Wasn't it also because successive governments lost sight of the importance of manufacturing industry and saw financial services in the City as the next best thing after North Sea oil?" I suggested.
He agreed.
"It has taken a great shock but at least they have got the message now. It's just a pity they have realised this just when there is no money!"
He is deeply worried about the declining skills base and the lack of job opportunities in areas which not so long ago were famed for their workforce like the Black Country and Stoke-on-Trent.
My interview with Lord Bhattacharyya forms the centrepiece of this week's Politics Show in the Midlands.
I will also be joined in the studio by a former chief executive of Jaguar, Geoffrey Robinson, Labour MP for Coventry North West and Paymaster General in Tony Blair's first government.
Also with us will be the government Whip and Conservative MP for Kenilworth and Southam, Jeremy Wright.
And I hope you will be with us as well, from 12.00 GMT on BBC One on Sunday 11 December 2011.
You can also follow me on Twitter.