MPs unite in fight for Anglia rail improvements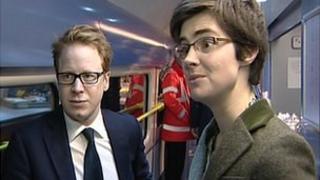 They worked together to get the A11 dualled.
Now Norfolk and Suffolk MPs are combining their efforts to do something about the main rail line from Norwich to London.
For years there have been complaints about punctuality, the speed of journeys and the standard of service on the intercity service.
But with the National Express franchise coming to an end, and Network Rail drawing up a list of spending priorities for the next seven years, our MPs are flexing their muscles.
While some have been meeting with the new owners of the franchise, Conservative MPs Ben Gummer (Ipswich) and Chloe Smith (Norwich North) have organised a rail summit at Westminster to discuss how improvements can be made.
"It can't be too big a task," says Miss Smith.
"We've got a railway in this country and we want to make sure it's a good railway."
"No-one has really campaigned properly to have the kind of rail service the rest of the country enjoys," says Mr Gummer.
"If we don't do something soon, it'll be quicker to travel from London to Birmingham than to Ipswich, and quicker to get to Brussels than Norwich."
The London to Norwich line carries 9m passengers a year.
The dream of MPs and local businesses is to be able to travel to Norwich in 90 minutes for a journey that is just under two hours at the moment and Ipswich in an hour, knocking around 15 minutes off the travel time.
Improvements needed
More passing loops on the congested Essex section, improved signalling and more modern level crossings can make that happen.
"What we're looking for is proper investment that only comes along once in a generation," says Ms Smith.
"We need all the parties to work together. Our summit will bring together the train companies, Network Rail, the Department for Transport, the business community and all the local MPs."
And she also wants to see Network Rail take more responsibility for the times when engineering work over-runs or when poor maintenance causes delays.
"They've got to step up and take responsibility when they let passengers down. These are real people with real lives being affected," she says.
Rail delays
This week Rail Minister Theresa Villiers rode in the cab of an intercity train to Norwich and got a taste of the frustration felt by regular commuters: her train was delayed for 20 minutes after a tree fell onto overhead power lines.
"It's clear that this route is economically important and I note the aspirations of people who want to see it improved. We hope to be able to deliver some in due course but it depends what's affordable," she says.
Meanwhile MPs from Norfolk and Suffolk have been meeting with Abellio this week, the Dutch company which will take over the Greater Anglia franchise next year.
Time will tell if it can deliver on promises to improve punctuality, deliver cleaner stations and, if it wins the longer 15 year franchise, new rolling stock.
"These are real rail professionals and they give every impression of being committed to making this work," said Norman Lamb, the MP for North Norfolk.
Improving our railways has now become the main infrastructure issue for Norfolk and Suffolk's MPs.
They hope that in keeping up the pressure and presenting a united front, it won't be long before things start to improve.