Medics urge people to use A&E sensibly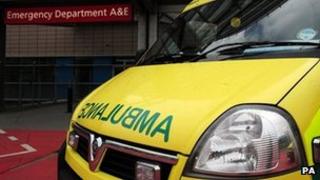 People are being urged to use A&E sensibly over the festive period as the NHS releases a series of videos showing inappropriate reasons for attendance.
Among examples portrayed by NHS North West are a request for help carving a turkey and staff being asked to remove a swear word written on someone's head.
The scenarios are played by actors. The films can be seen on YouTube.
About 40% of A&E attendances are for alcohol-related incidents. The figure rises at Christmas and New Year.
Parties usually make the last Friday night before Christmas the busiest of the year for the emergency services.
But experts are expecting two "mad Fridays" this year, on December 16 and 23, because Christmas Day falls on a Sunday.
'Time matters'
Dr Mike Cheshire, medical director at NHS North West, said: "These comedy films support Choose Well, a national campaign which encourages people to think carefully about their condition before they go to A&E.
"As many as one in four people who go to A&E units could use alternative facilities like pharmacies or GP surgeries, or don't need any kind of treatment at all.
"These unsuitable attendances cost the NHS around £100m every year."
He said paramedics and A&E staff were under their "most severe pressure" at Christmas due to unnecessary calls and alcohol-induced illnesses and injuries, as well as treating those with serious respiratory problems caused by the cold weather and victims of accidents.
Derek Cartwright, director of emergency services for North West Ambulance Service, added: "In genuine life-threatening emergencies, time matters.
"If people stop and think about drink this Christmas and take a sensible approach, they can play their part in ensuring ambulance crews are free to attend to vulnerable and very poorly people."