The 'A14 Challenge' survey seeks solutions to congestion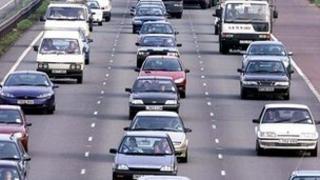 The government has announced a "participation exercise" seeking solutions to congestion on a major route through the east of England.
The A14 Challenge is to be managed by the Department for Transport (DfT) and Cambridgeshire County Council.
Ideas for "long-term improvements" to the stretch between Huntingdon and Cambridge are being sought.
Councils in Northamptonshire, Suffolk and Cambridgeshire will also be seeking the views of road users in January.
The survey is in addition to the A14 improvement plans announced by the government in the Autumn Statement at the end of November.
'Deliverable solution'
The online survey says it is looking for "a solution that is deliverable, value for money, and at a price the country can afford".
Roads minister, Mike Penning, said: "This is far from being a study about what the problems are - they have been studied before and are well known.
"This is a great opportunity for local stakeholders to shape the solution."
Although the A14 Challenge focuses on the congested corridor between Ellington and Fen Ditton in Cambridgeshire, the survey has been welcomed by councils in both Suffolk and Northamptonshire.
The route is the major artery linking Felixstowe port with Cambridgeshire, Northamptonshire and the M6.
The leader of Conservative-controlled Cambridgeshire County Council, Nick Clarke, said A14 congestion had "held back businesses in Cambridgeshire from fulfilling their potential" and deterred investment in the east of England.
He said: "We have the opportunity to create an A14 which will enhance rather than hinder our economy."
The A14 Challenge will close at the end of January and recommendations are expected to be published in the summer.