Devon pensioner and teacher in inflation squeeze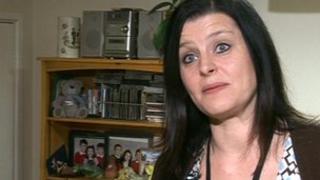 Yvonne Doyle of Plymouth sent the BBC a plaintive email in 2008.
"This year my council tax has gone up 6% and my water rates nearly 7%," it began. Little did she know that she might look back on those as days of relative plenty.
Ms Doyle is still a working mother with three youngsters at home. When we revisited her, her biggest concern of all about the household budget was still food. It is a bigger problem now with her children growing up and eating more as a result.
Worse, as a teacher she has had to get used to a three-year wage freeze.
"Everything has gone up," she told us. "I don't know how bigger families afford it. Pasta that was 59p is now over £1.
"A packet of chocolate biscuits that was 60p or 70p is now £1.20 or £1.50. So 5% inflation? For me, I think it's doubled in two or three years - but my wage is the same."
Derek Bryant, a Dawlish pensioner, spoke frankly to us in 2009. He said: "I can see that if I don't do something I'm going to sink into penury."
He found a job locally for three years, but has retired again now after a health scare.
He sees the same problem re-emerging to confront him.
"I'm 74 coming up," he told us recently. "So... 15 years? I'm sure my savings are going to run out before then. You aren't getting any interest. That's a worry, and all I can do is reduce expenditure."
Mr Bryant has one option that many might envy him, unpalatable though it might be. He could sell his house on the Devon coast, or look into some sort of equity release.
As he puts it: "What's the point in owning a valuable property if you can't afford a pint?"
One of the biggest inflationary pressures in the South West has been the cost of housing, especially near the coast. But many young people with jobs find the coast is where the work is.
That is certainly true for Chris Pollard, who we first met as a new apprentice at Pendennis Shipyard, Falmouth, in 2009.
Mr Pollard is now 25, and a qualified joiner at Pendennis. No longer an apprentice, he has seen his pay go up.
In his daily routine, there is only one obvious sign of an inflation problem - even though he has a decent job and a driving licence, he doesn't own a car.
He cycles to work from his rented accommodation in Falmouth.
"The worst of not having a car is when the weather turns cold, but I just wrap up and put gloves on," he said.
As a skilled tradesman, he feels insulated from the worst of rising materials costs by the fact that he works for a large employer.
He is only too glad not to be one of the army of trades people out and about on Cornwall's roads, trying to make a living out of the back of a van.