James Paget Hospital chief exec Wendy Slaney to retire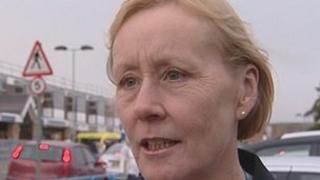 The chief executive of an under-fire Norfolk and Suffolk hospital says she is to retire from the NHS.
Wendy Slaney announced she was leaving her post at the James Paget Hospital (JPH) with "real regret".
Last month the Care Quality Commission (CQC) gave the JPH its second formal warning over its quality of care.
"I hope there will be the chance of a smooth transition and... a new approach to meeting the challenges this organisation faces," she said.
Mrs Slaney, who has held the position at the Gorleston since March 2010, after being interim chief for 12 months, said she had thought "long and hard about the best way forward".
"The longer term interests of this hospital and its patients and staff are of greater importance than my own position," she added.
'Correct nutrition'
Interim chairman Peter Franzen said: "I would like to reassure staff and the local community that leadership and continuity will be maintained at the James Paget while a successor to Wendy is sought.
"It will be my task to ensure a smooth transition as the hospital takes the opportunity for a new approach in meeting the challenges facing the NHS.
"The James Paget needs a little breathing space now and I sincerely hope that this hospital is given time to rebuild and recuperate and come back stronger than ever."
In September this year the hospital was given a formal warning by the CQC for not meeting the nutritional needs of patients.
It found in a follow-up inspection that this had improved, but a second warning was given because the system was not consistent and patients were not always receiving help when eating and drinking.
"It is a basic requirement that vulnerable people who are trying to recover in hospitals receive the assistance they need to get the correct nutrition," the CQC said last month.
The CQC said further inspections would take place and warned legal action could result if the required standards were not met.