Numbers of shoppers at Reading's Oracle increase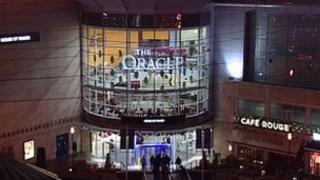 A major regional shopping centre in Berkshire says its visitor numbers are up compared to last year.
During the second weekend of December, the Oracle in Reading had 2.6% more visitors than at the same time the previous year.
National sales figures in November fell 0.4% from the previous month, according to the Office for National Statistics.
Elsewhere in the south, shoppers in Fareham, Hampshire, have been enticed in with a free park and ride service.
Fareham Borough Council's park and ride service will run into the town centre every Saturday until Christmas Eve.
Some traders have reported difficulties in getting people into shops this year.
William Elphick, manager of the 100-year-old Hickies music shop, which is outside the Oracle in Reading town centre, said: "At the moment it's quite challenging and I don't think it's going to improve over the next five years."
The shop was forced to make a redundancy in 2011 but Mr Elphick said it could compete against other retailers by offering added value to the customer such as music lessons, advice and instrument rental.
Nationally, the Office for National Statistics indicated that food stores had seen their largest fall in sales for half a year in November.
Nurse Daphne Ely buys her fruit and vegetables from the weekly market in Henley-on-Thames in Oxfordshire and says it is cheaper than the big stores.
She added: "It's definitely a different feel coming into Henley shopping. You know you're going to a quaint market town where there will be those different shops as opposed to the high street shops which you find at the Oracle.
She said it will be a "real shame" if the shops were put out of business by competition form larger stores or the internet.