JCB UK staff to receive pay rise and Christmas bonus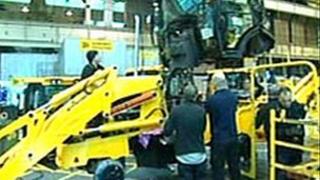 JCB's UK trading arm has announced it will be rewarding staff with a pay rise and a £500 Christmas bonus after a strong trading year.
About 4,400 employees at factories in Staffordshire, Derbyshire and Wrexham will get a 5.2 per cent pay increase.
The pay rise, which is linked to November's retail price index, will come into effect from 1 January 2012.
The company had faced difficult trading conditions in 2008 when staff agreed to work a 34-hour week to avoid job cuts.
'Team work'
All employees also saw an 18-month pay freeze from 2009 to the summer of 2010.
Chairman Sir Anthony Bamford said: "JCB has continued to recover strongly this year from the difficult trading conditions of 2008 and 2009 and all areas of our business rose to the challenge of growing sales in a tough economic environment."
He said last year the firm sold 51,600 machines and this year sales will increase by more than 30 per cent.
He added: "The award of another Christmas bonus and a substantial pay increase wouldn't have been possible without team work at JCB during the severe economic downturn of 2008 and 2009 when everyone worked together to ensure the business emerged strongly from a difficult trading period.
"The economic outlook has become more uncertain in recent months but if we continue to work as a team, I'm sure we can achieve even more next year."