New aircraft hangar and hotel at East Midlands Airport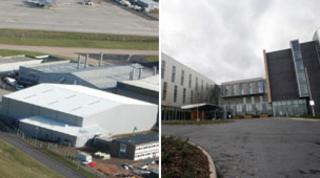 Work on two multi-million pound developments at East Midlands Airport has been completed.
Manchester Airport Group (MAG) Developments has spent £25m building a new aircraft hangar and a hotel.
The 26,000 sq ft (2,425 sq m) hangar was built in 23 days. Both the 218-bedroom hotel and the hangar have been given high energy-efficiency ratings.
MAG spokesman David Roberts said it was estimated the projects would bring in about 180 jobs to the airport.
"These two major projects represent a substantial level of investment in East Midlands Airport," said Mr Roberts.
"There have been an encouraging number of inquiries with regard to further bespoke development opportunities and we hope to announce further progress within the next 12 months."
MAG Developments is responsible for the management and development of all commercial property and land at East Midlands.