The (not) much anticipated Moss review of 2011 part two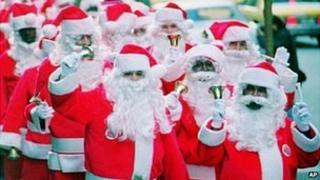 Be still your beating hearts, here as threatened is part two of my review of the political year in the north.
No Christmas cats in this one, I'm afraid. The budget simply wouldn't run to it.
But nevertheless I have scoured the BBC's festive photo library and found you a whole sack full of Santas.
Ho, ho, ho etc.
July
A Newcastle academic tells MPs that plans for a high speed rail link could actually make the north-south divide worse not better.
One Sunderland job seeker decides to try and find work by spending every day advertising his skills at a roundabout on the edge of the city.
MPs raise concerns about delays to inquests in Teesside and call for action to be taken against the area's coroner. He says the delays are not his responsibility.
A row grows about plans which could see Liverpool take lucrative cruise traffic from the Port of Tyne. North East MEP Martin Callanan says Liverpool's plans are unfair.
August
Strangely nothing seems to have happened in August at all. It was just a coincidence that I happened to be on holiday for much of it.
September
Middlesbrough MP Sir Stuart Bell hits the headlines as a local paper says it placed 100 unanswered calls into his office. Some papers ask if he's the laziest MP in Britain.
The Labour veteran says he has no record of the calls, and allows me to accompany him in his constituency to prove that he does work hard.
The Boundary Commission publishes its proposals for new constituencies. Three seats go in the North East and one in Cumbria.
The plans would create a huge seat stretching from Haltwhistle in Northumberland to Teesdale in County Durham.
They might also pitch Lib Dem President Tim Farron against rising Tory star Rory Stewart for a Penrith and Kendal seat.
Tony Blair's former Sedgefield seat could become a Conservative target.
Unemployment surges by 18,000 in the North East with public sector job losses making up much of the increase.
Westmorland and Lonsdale MP Tim Farron tells the Lib Dem conference in Birmingham that the coalition will eventually end up in divorce. He later downplays talk of his leadership ambitions.
Newcastle and Gateshead councils propose building 36,000 new homes including some on green belt land.
At the Labour conference, several North East MPs are involved in drawing up policies to move the party to the left. Tony Blair's name is booed during Ed Miliband's conference speech. Brother David makes a brief appearance.
October
North Tyneside Conservative mayor Linda Arkley raises concerns about the power of the Scottish development agency after internet company Amazon decides to site hundreds of new jobs in Edinburgh rather than the North East. She and I raise the issue with David Cameron.
A shake-up of Ed Miliband's shadow team sees Darlington MP Jenny Chapman take the prisons brief.
Northumberland's Alcan announces plans to sell its aluminium smelter partly because of the impact of government carbon tax plans.
There are warnings that the taxes could also cost jobs in the region's chemical and steel industries.
November
There's more success for the North East in the latest round of the Regional Growth Fund with the region making 50 successful bids. There is criticism though that money from the first round still hasn't been paid out.
A Politics Show survey reveals that council staff in the North East and Cumbria took around a million days of sick leave in the previous year.
MPs and councillors queue up to make their views known about the proposed new parliamentary boundaries at hearings in Newcastle and Darlington. The big political battle rages over what should happen to Conservative James Wharton's Stockton South seat.
Alcan confirms it will be closing its aluminium smelter with the loss of 500 jobs.
The government announces the sale of Northern Rock to Virgin Money. The new owners say it will protect jobs for three years and keep the headquarters in Newcastle.
Blaydon MP Dave Anderson takes on FIFA president Sepp Blatter by tabling a Commons motion calling for his resignation. Herr Blatter stays put.
MPs from all parties across the region unite to condemn proposed cuts to BBC local radio and current affairs programme Inside Out.
Chancellor George Osborne offers more help to the north in his Autumn Statement, but Labour says it's evidence his economic strategy has failed.
December
The government announces another round for the Regional Growth Fund, and makes awards to five more North East projects.
Nick Clegg offers new powers to England's largest cities, including Newcastle. The city council leader Nick Forbes says he's not sure what power he's being offered.
The final edition of the Politics Show airs causing widespread grief around the country (stop exaggerating - Ed), but there is an outbreak of joy (I won't tell you again - Ed) when it's revealed that it will be replaced by the Sunday Politics.
The government reveals plans to set up 20 local TV stations including one in Newcastle. Middlesbrough and York might get them later.
The majority owners of Durham Tees Valley Airport put their 75% stake up for sale after a fall in passenger numbers.
There is an ecstatic welcome for the return of the Moss review of the year (that's it, you're fired - Ed).
And as my hero Alan Partridge would say, on that bombshell I shall bid you a very merry Christmas and a prosperous 2012.
See you in January.