Festive rail disruption for lines into London Liverpool Street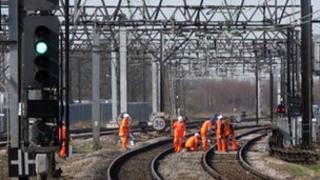 Rail users travelling from East Anglia to London Liverpool Street over the festive period have been warned to expect disruption.
Planned replacement of overhead power lines between Ilford and London will affect routes on the Norwich mainline and from Southend Victoria station.
The work will mostly take place on the Christmas and new year public holidays.
Network Rail apologised for the disruption but said it was a time when fewer people would be affected.
The work will affect services on 24, 27, 31 December, plus 1 and 2 January.
'Necessary disruption'
On those days trains will not run between Ingatestone and Liverpool Street on the mainline from Norwich and from Shenfield to London on the Southend Victoria line.
Metro services will also not run between Shenfield and Liverpool Street.
No National Express East Anglia services will run on those lines on 25 and 26 December.
The rail operator advised passengers to check the National Rail Enquiries website for full details of the service alterations.
It added its c2c line from Southend into London Fenchurch Street was not affected.
Dave Ward, route managing director at Network Rail, explained the festive period was the best time for what he called "once in a generation" work.
He said: "When we look at the extensive jobs that mean we have no overhead power for days, demand says the only time we can disrupt the least amount of people is over the Christmas holiday.
"I do apologise for the travel disruption, but it really is necessary."
Mr Ward explained the work was part of the company's ongoing £200m project to replace 70-year-old cables between Chelmsford and Liverpool Street.
Derek Monnery, of the Essex Rail Users' Federation, acknowledged the work needed to take place, but questioned how it had been handled.
He said: "It does concern me that it seems to have been done very piecemeal and not in an organised way."
London Underground will also be affected on Boxing Day by a 24-hour strike by tube drivers.