Chloroform found in illicit vodka in Staffordshire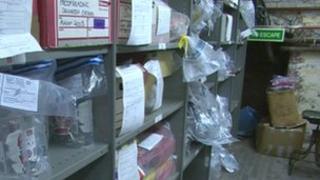 Fake vodka containing chloroform has been seized during counterfeit alcohol checks across the West Midlands.
Trading Standards and other agencies have been inspecting shops and premises since September and seized thousands of bottles of illegal alcohol.
The vodka containing chloroform, used for its anaesthetic properties, was found in two bottles in Staffordshire.
Some products seized, containing methanol, were "unfit for human consumption" due to the contamination.
A spokesman for the Central England Trading Standards Authorities (CenTSA), made up of 14 authorities in the Midlands, said it had been working with Her Majesty's Revenue and Customs (HMRC), police and drinks makers to try to tackle the counterfeit trade.
During the raids, more than 3,000 bottles of spirits were seized from more than 700 premises in Coventry, Dudley, Staffordshire, Solihull, Herefordshire, Walsall, Warwickshire and Stoke-on-Trent.
'Potentially dangerous'
More than £40,000 worth of illegal alcohol was seized in Sandwell in the Black County.
Duty was not paid on some of the impounded alcohol as well, they added.
Brian Mycock, from Staffordshire Trading Standards, said the chloroform came from using industrial grade chemicals when making the vodka instead of food grade chemicals which are used in any food making process.
Councillor Patrick Corfield, cabinet member for culture, communities and customers at Staffordshire County Council, said it was a carcinogenic and "can kill."
Prolonged used can heighten the risk of cancer. Methanol can cause dizziness, sickness and even blindness.
Mr Corfield said the Food Standards Agency (FSA) had given the council £50,000 in funding to continue the inspections for a further six months.
"It's potentially dangerous and we want to carry on the work," he added.
"The worst case scenario is that you buy a bottle of this and give it as a present and you're harming those you love."
People are urged to check labels on bottle and spellings and if the liquid is cloudy.