Cleveland and Durham crash police receive 3D lasers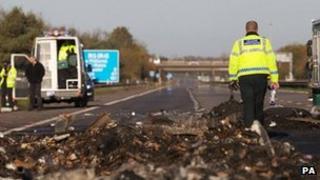 Motorways in County Durham and Teesside will be closed for less time after accidents thanks to £157,000 in government funding.
The forces, which share a road traffic unit, will spend the money on two 3D laser scanners to aid investigators.
The scanners allow police to quickly take detailed images of crash scenes so roads are closed for shorter periods.
The government has awarded a total of £2.7m to 27 police forces across England to spend on the new technology.
It is hoped it will reduce accident clear up time and investigations by 39 minutes - the average motorway is closed for six hours after a serious crash.
Ed Turner, of Cleveland and Durham specialist operations unit, said: "It is vital that we thoroughly investigate collisions to establish what has happened.
"This can be very time consuming as we can never re-create the scene at a later date.
"We recognise that this has a huge impact on motorists, so the new equipment will significantly reduce the time it takes for an investigation enabling the roads to be opened sooner."