MPs invited to join new East Midlands parliamentary group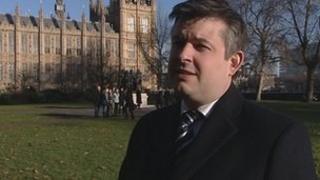 An MP says he is trying to set up an all-party parliamentary group for the East Midlands to help the region get a better deal from the government.
Jon Ashworth, Labour MP for Leicester South, said he would be inviting other MPs from the region to join the group in the new year.
Mr Ashworth said the idea had already been a success in the West Midlands.
A select committee for the East Midlands, set up by Labour, was scrapped by the coalition government.
Mr Ashworth said: "We are a tremendously important region for the UK economy.
'Enough support'
"We have got three major cities and there are also our agricultural and farming sectors as well.
"I think an all-party committee, of all the politicians in the East Midlands coming together, banging the drum for the region, pressurising the government for a better deal for the East Midlands, is really important.
"I think there will be support. I'm sure some colleagues might think it's not necessary but I think there will be enough support for us to get one going.
"There is one in the West Midlands, set up in the last few months by Ian Austin MP, which has been very successful."
Mr Ashworth said he was keen to establish the group as soon as possible and hoped ministers would take it seriously.