Health alert over salmonella strain rise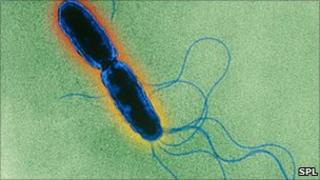 Health officials are investigating how to stop a rise in cases of a salmonella strain which can leave patients severely ill, the BBC has learned.
Cases of Salmonella Typhimurium DT193, rose 630% from 71 in 2004 to 518 in 2011 in England and Wales, said the Health Protection Agency.
A Devon man diagnosed with DT193 poisoning in 2011 spent five days in hospital and is still suffering.
DT193 cases rose in the South West from 14 in 2004 to 73 in 2011.
DT193, which is most common in beef and pork, is also found in unpasteurised milk, desserts and sandwiches according to the HPA.
It said in a statement: "The HPA study, which is ongoing, involves people who were ill being questioned about what they ate and activities they were involved in prior to becoming unwell.
"The aims of the study are to find any links between those who were unwell and give insights as to how to stop the increase in cases."
Devon builder Ian Mason, 54, was among eight people who contracted DT193 after attending a hog roast, identified by the HPA as a possible cause of the outbreak, in April 2011.
About 24 hours after the event he suffered severe diarrhoea and vomiting and spent five days in hospital.
The father of three has been off work for the last month with colitis which his doctor says is linked to the salmonella.
He is now taking steroids six times a day and he has lost two stone in the past two months.
He said: "I have collapsed on the floor with pain, it's unbelievable."
The total number of salmonella cases in England and Wales has fallen from 15,435 in 2000 to 9,133 in 2010, said the HPA on its website.
Health officials say most salmonella infections are not serious, causing only mild stomach upsets.
Occasionally, however, particularly in the elderly or in people with weakened immune systems, they can be life-threatening and may need treatment with antibiotics.
DT193 is a strain of Salmonella which has caused concern on the European continent because of its resistance to antibiotics.
A report by nine European health agencies including the HPA in 2010 warned of a big rise in DT193, like Salmonella Typhimurium DT104 during the 1990s.
It said: "Control measures are urgently needed to reduce spread of infection to humans via the food chain."
The HPA said: "The best way for people to protect themselves from this infection is by following good hand and kitchen hygiene practices and also by ensuring all food, particularly meat, is thoroughly cooked."