New Dover to Calais ferry service announced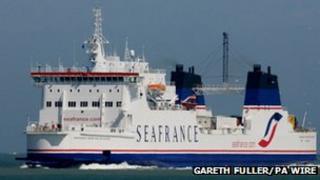 Two ferry companies have announced their intention to run a service between Dover and Calais, a day after SeaFrance went into liquidation.
DFDS and LD Lines put in a bid to acquire some of SeaFrance's assets, but the bid was rejected by a French court.
A spokeswoman said the companies' intention was to operate two ships on the cross-channel route with French crews on both vessels.
She said about 300 staff would be recruited for the new service.
'Crazy idea'
Charlie Elphicke, the MP for Dover and Deal, said: "I think it's great news to have a new ferry operator on the Dover to Calais route.
"However, what I would say is, it's a crazy idea to have it French flagged and to have French workers.
"We have got a lot of people in the UK who are flexible in the labour market, keen to do a job, keen to work really hard.
"If they had UK workers and a UK flag they would pay less taxes as well and it would be really great for the economy of Dover."
Chris Newey, from DFDS, said that as well as creating 300 jobs in France there would also be "opportunities elsewhere".
"Those are opportunities that we are looking at at the moment," he said.
The joint venture between DFDS and LD Lines was formed in 2011 but in November a £5m bid for SeaFrance was rejected by the Tribunal de Commerce in Paris, despite the court declaring SeaFrance bankrupt.
In December, DFDS dropped its attempt to buy the ailing French ferry company.
Service suspended
On Monday SeaFrance announced it is to shed 127 jobs in Dover after it was liquidated by the French court and told to cease activity.
The Tribunal de Commerce decided SeaFrance's future after a bailout by the French government was ruled illegal by the European Commission.
The court also said an offer by a cooperative of employees was not acceptable.
Hundreds of jobs in France are also expected to be lost.
Three ferries were operated by SeaFrance on the Dover to Calais route. The service was suspended in November.
The French firm went into receivership in 2010 and its ferries carried more than 3.5 million passengers a year on the Dover to Calais route.