USAF Lakenheath, Mildenhall and Feltwell housing cuts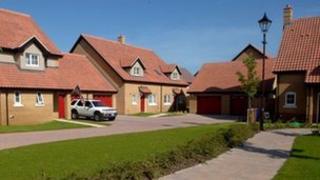 Private landlords in East Anglia fear they could lose out after the United States air force (USAF) removed housing allowances for personnel.
New arrivals in East Anglia will not get an allowance to rent privately if they turn down unoccupied base housing.
The USAF said it has over 200 empty houses at RAF Lakenheath alone.
Carol Jaggard, from Beatrice Carter Property in Mildenhall, said: "Things will be a little bit slow for a while, but I hope it will come back."
The USAF leases about 600 houses on Lord's Walk in Lakenheath from a British property company.
Lt Col Shawn Thompson, 48th Fighter Wing at RAF Lakenheath, said: "It's actually the largest leased housing unit in the USAF and we've got 228 units that are not being occupied.
"We are wasting over £500,000 a month for renting what are basically empty units."
Cost 'too high'
There are 7,800 US service personnel at the three neighbouring bases of RAF Lakenheath and RAF Mildenhall in Suffolk and RAF Feltwell, Norfolk.
The USAF said about 5,400 currently live off-base.
Ms Jaggard said: "Maybe in a few months they will have filled the 200 homes they've got without too much trouble."
Tony Wheble, chairman of Mildenhall Parish Council, said: "It could have a long-term effect because the rent in this area has been higher because the Americans are here.
"Local people might be able to rent the houses which they can't do now because the cost [has been] too high."
The USAF said it was planning to end its lease at Lord's Walk when it runs out in 2018 and the properties would return to the open market.