Environment Agency wants volunteer Thames lock keepers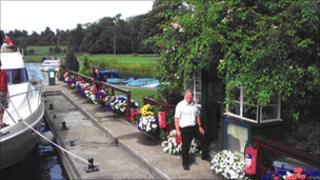 Volunteer assistant lock keepers are being sought to work on the River Thames over the summer.
The Environment Agency (EA) wants people to help at all 44 locks on the non-tidal stretch of the Thames between May and September.
It includes sites in Gloucestershire, Oxfordshire, Berkshire, Surrey and Teddington on the outskirts of London.
They are to work alongside lock and weir keepers, assisting boats and giving advice to visitors.
Andrew Graham, Waterways volunteer manager at the EA, said: "This is the second year we have invited volunteers to help us manage and operate our locks along the Thames, and we hope to build on the success of last year.
"We had more than 80 volunteers helping us out along the river during the boating season last year, and we want to extend the invitation to others who want to get involved.
"People don't have to live right next to the River Thames to volunteer with us; we want people who live in the wider community to get more involved too.
"As well as helping boats to pass through the lock, volunteers can use what they know about the Thames and its surroundings to help us to inform visitors about everything it has to offer.
"We are expecting a busy year with Thames with the Queen's Jubilee pageant and the Olympic rowing at Dorney Lake, so the knowledge and enthusiasm of local volunteers will be invaluable."