Traffic light free junctions: 'sharing' the space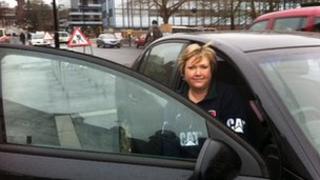 Any drivers approaching one of Coventry's busiest pedestrian crossing junctions may well find themselves confused about the lack of red and green lights telling them what to do.
Along with cyclists and pedestrians, cars now have to find a way across the four-way junction on Gosford Street near Coventry University - but without the help of traffic lights.
The theory behind the idea is that by making people concentrate harder on crossing the junction, it makes them safer drivers, pedestrians and cyclists - and in turn, reduces crashes.
However, not everyone is a fan.
"It's an accident waiting to happen," said driver Anne Dalby, after having just navigated the new-look junction.
"It's not clear who's got the right of way and people not familiar with it will find it very confusing."
Ms Dalby, from Rugby, Warwickshire, said: "I'm quite a competent driver - but for anyone who's not very confident, or perhaps elderly people trying to cross, I would imagine it's quite confusing."
More 'responsibility'
However, John Williams, from Leamington Spa, said he believed the psychology of the so-called "shared space system" worked well.
"A lack of traffic lights engenders co-operation and the junction works much better," he said.
"It's self-organising and if people are aware of the rules of driving, then there's no problem.
"The only issue would be if people don't remember to give way to traffic coming from the right."
The junction in Coventry was open to traffic in October last year and is due to be finished by March. It is one of a handful of schemes that have sprung up across England, including Liverpool, Manchester and London.
Coventry City Council said that along with removing the traffic lights at the junction, it had reduced the traffic lanes from five to two and added in parking bays.
The council also said it had "removed all unnecessary signs and lines".
Bristol-based company Hamilton-Baillie Associates specialises in such developments and said that since they had been endorsed by the Department for Transport, inquiries from interested councils had increased.
Paola Spivach, from the company said the Coventry scheme was "groundbreaking" for the area..
"The main advantage is [shared spaces] give responsibility to drivers rather than relying on traffic lights," she said.
"Cars need to go slow enough to allow interaction between pedestrians so the junctions are less dangerous than traffic lights, which are more risky, because speeds are naturally reduced.
"Drivers have to slow down, open their eyes and be more alert about what's around them."
'Really dangerous'
However, Terri Clews, 20, from Coventry, who is registered blind, said that for her tackling the new crossing was not quite as straightforward.
"It's complete discrimination for those of us who can't make eye contact," she said.
"I find there's no right of way with the traffic, drivers are too busy trying to figure out who's going to take the lead and they're not watching out for pedestrians."
Ms Clews said: "I have some level of sight but no depth of perception so I can't recognise there's a car coming and I have to wait until it's clear.
"Without having the green man that has a noise attached to give you a sign to cross the road, I feel it's really dangerous - I avoid it at all costs."
City services cabinet member Lindsley Harvard said in response to complaints from people with sight problems, they had kept zebra crossings at the junction and were "even putting in many more".
But in spite of this, Ms Clews said that since the changes were made to the junction in early October, she now avoided it walking to and from work - almost doubling her journey time.
'More cautious'
Similar projects have often formed part of city regeneration plans.
In Coventry, where the changes in the junction cost £900,000, they form part of a bigger £7m redevelopment ahead of the city hosting Olympic football games at the Ricoh Arena.
Council leaders said that over the new-look junction's first 14 weeks, there had only been one accident - compared to an average of one every six weeks before.
They said that average speeds in the city centre had fallen to 18mph since the road system was changed.
Cyclist Andrew Jarrett said he had noticed vehicles travelling more slowly but said the new junction was still potentially hazardous.
He said: "The lights used to bring the traffic to a standstill, whereas now there is always movement and you have to be much more aware of other cars and vehicles - I'm definitely more cautious now."