East Midlands Airport uses video patrol to target 'dangerous' drivers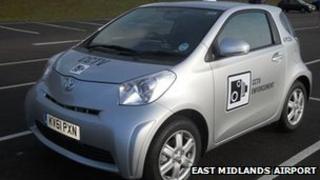 Drivers stopping inappropriately on roundabouts and junctions at East Midlands Airport are being targeted by a new video patrol vehicle.
Officials at the Castle Donington airport said the vehicle would be used to deter the minority of people who cause a danger to other motorists.
Brad Miller, the airport's managing director, said drivers could be fined up to £100.
But said only drivers proved to have been acting unsafely would be charged.
'Dangerous incidents'
He said: "Over the last year there has been a number of quite dangerous incidents where people have been dropping off on roundabouts and on double yellow lines."
"If we don't do something we are rewarding poor behaviour, which is really not fair on the vast majority of people," he said.
Mr Miller denied that the airport had introduced the system as a way of making money from motorists.
"We can now record what is going on and will not fine anybody unless we are absolutely sure that they have been acting unsafely.
"I have an obligation to people to ensure that the airport is safe and secure."
East Midlands Airport has already introduced a £1 charge for using its designated drop-off points, which Mr Miller said was necessary to prevent people stopping for long periods.
Apcoa Services Group, who manage all on site car parks on behalf of East Midlands Airport, will be responsible for the vehicle monitoring and enforcement scheme.