East Midlands police sign collaboration agreement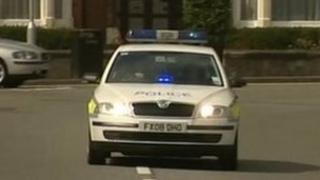 Five East Midlands police forces have signed a formal agreement to share resources, aimed at saving £26m over four years.
The move will see the East Midlands Counter Terrorism Intelligence Unit (CTIU) combined with force special branches.
A new major crime unit is being created and the East Midlands Special Operations Unit expanded.
Police said the move would help provide an integrated response in the region.
The crime units in Nottinghamshire, Derbyshire, Leicestershire, Lincolnshire and Northamptonshire will be centrally led and co-ordinated, but continue to be locally delivered.
The collaboration, which began last September, is being gradually phased in over a number of months.
Largest multi-force
All five forces' chief constables and police authority chairmen signed a formal agreement, which sets out the terms of the collaboration.
Police said the savings would be made by reducing the number of people dedicated to major crimes in the region from 315 to about 230, while those working on serious organised crime will fall from 350 to about 250.
Officers will be redeployed to their local forces but there will be an unknown number of civilian redundancies, said police.
Deirdre Newham, chairman of the East Midlands Police Authorities' joint committee, said: "Collaboration between police forces in the East Midlands presents a real opportunity to reshape our business.
"It will enable us to deliver the best possible police service, whilst making savings."
Chief Constable Mick Creedon, of Derbyshire Police, who leads the specialist crime collaboration on behalf of the five forces, said: "We are already seeing the benefits of creating the country's largest multi-force crime unit.
"The results during the first few months of operation have had a significant impact on crime in the East Midlands."
Police said that since the creation of the East Midlands Special Operations Unit - Major Crime in September 2011, the unit has dealt with 31 new inquires, including more than 20 murders and an investigation into the death of two girls in a Northampton nightclub.