Will PM's push for new businesses inspire the north?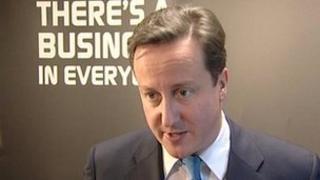 The Prime Minister is starting a big push to make us all more entrepreneurial, but a new report suggests he has a battle on his hands in the North East.
David Cameron is launching a campaign called Business in You to encourage more people to set up their own company.
But the latest statistics suggest it's the North East that the PM really needs to work on.
A report by the Centre for Cities places the North East's three biggest centres of population at or close to the bottom of a league table for business start-ups.
Out of the 64 places surveyed for Cities Outlook 2012, Newcastle came 58th, Middlesbrough 61st, and Sunderland 64th and bottom.
Four times as many businesses were started in London than in Sunderland, and even Grimsby saw three times as many start-ups.
League tables
That feeds through into other statistics in the Centre for Cities report too.
Newcastle (58th), Middlesbrough (63rd) and Sunderland (64th) are also in the bottom seven for the number of businesses per 10,000 people.
All three are also in the bottom 10 in terms of the numbers of patents taken out per 100,000 people.
It has to be said though that not everyone accepts that picture of the North East though, and it does depend a little on what survey you choose.
A Royal Mail report from October last year suggested Sunderland was the place with the fastest growing rate of business start-ups, with Stockton not far behind.
And on BBC Newcastle, the figures were disputed by Paul McEldon, the chief executive of the North East Business and Innovation Centre.
He said they could be misleading because the region has many companies which operate below the VAT threshold and therefore don't show up in some surveys.
But even he accepted there was more work to do.
Proud history
The region certainly needs to tap into every ounce of entrepreneurial spirit it has got given the highest unemployment rate in the country, and its dependence on the public sector.
And yet the region does have a proud history of innovation. The North East produced George and Robert Stephenson, Joseph Swan and Thomas Armstrong amongst many others.
One theory is that the north's industrial past bred a culture of employment rather than self-employment.
Why bother starting your own business, when there were any number of jobs available in the mines, shipyards, and steel mills?
The subsequent rise in public sector employment could be seen as the replacement for those industries, and another disincentive.
So what is the government's solution?
One part of it actually involves taking advantage of the decline in the public sector.
Empty government offices will be offered to new businesses before they are sold off.
But there'll also be a year-long Business in You publicity campaign to try and encourage entrepreneurs.
Real life examples of successful start-ups will be used to inspire us.
Bank finance
Of course, there is only so much that public relations can do though.
Many embryonic businesses blame the lack of finance from banks for holding back their ambitions.
Labour also says the scrapping of regional development agencies and cuts in funding to the likes of Business Link have made life more difficult for new companies.
And there is a chicken and egg situation here too.
We need new businesses to help the economy grow, but the environment for entrepreneurs won't be encouraging until we see growth.
Joining the dole queue might just be the incentive some people need to start their own business, but their success will also depend on whether they can get the support they need to flourish.
The government believes it is creating the right conditions for new businesses.
But we'll have to wait and see if they can inspire a new generation of Stephensons and Armstrongs to send the North East up the economic league tables.