MEP Diana Wallis backs husband to take over job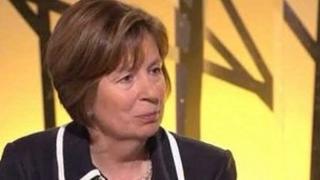 An under-fire MEP has backed her husband to take over her job, despite accusations of "nepotism".
Diana Wallis has attracted criticism, following her decision to stepdown as a Liberal Democrat MEP for the Yorkshire and the Humber region.
Under current rules, her seat will be taken by the Lib Dems' second choice candidate in the region at the time of the 2009 European elections.
He is Stewart Arnold - otherwise known as Diana Wallis' husband.
I spoke to Diana Wallis at her home in east Yorkshire where she defended the process, which could see her shoes filled by Mr Arnold, without a single vote being cast.
Ms Wallis said: "There was a selection within my party and there was a public election. It is now up to the person who is second on the list to decide what he wants to do."
Asked if her husband would make a good MEP, Diana Wallis said: "I think he would make an excellent MEP, but then again I am biased."
Political reaction
Her actions have prompted sharp words from political enemies and fellow Liberal Democrats.
Lib Dem MEP Chris Davies has resigned as a Lib Dem whip in the European Parliament in protest.
Mr Davies said: "This may be within the party's rules but many people will think it doesn't sound right and some will say that it stinks. I would agree with them.
"This would be a gift to eurosceptics who accuse MEPs of being out of touch and interested only in feathering their own nests, and we will all be tainted as a result."
Stewart Arnold has yet to formally confirm whether he intends to take his wife's job.
Diana Wallis' resignation appears to have been prompted by her unsuccessful campaign to be elected as President of the European Parliament.
Ms Wallis is a former solicitor, who later became a Liberal Democrat councillor on Humberside County Council and on the East Riding of Yorkshire Council.
She became an MEP in 1999 and has served as a vice-president of the European Parliament.
Diana Wallis says she remains a committed pro-European Liberal Democrat and hopes to continue serving the party.
But in this era of coalition politics the spotlight is on a political marriage of a different kind.