Barrier system for Wear-Tees match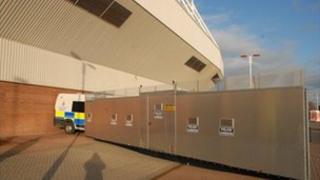 A barrier system was used by police at Sunday's Wear-Tees FA Cup match.
Middlesbrough travelled to Sunderland's Stadium of Light for the 13:30 GMT kick-off, which finished 1-1.
Northumbria Police used the metal barriers they had used at last year's derbies between Sunderland and Newcastle.
The aim was to minimise any potential conflict between the two sets of fans. The barriers can be joined together to form an extended blockade.
They were used at various points on routes leading up to the Stadium of Light.
Ch Supt Dave Pryer, from Northumbria Police, said: "The primary objective of police cordons is to ensure the safety of fans.
"The fact that opposing supporters are not in close proximity and in sight of each other helps reduce tension.
"We used the barriers successfully last season and the feedback we have received from both home and away fans has been very positive."
The force had said the use of the barriers would free up police officers and vehicles.