'Low arrests' in Wear-Tees derby game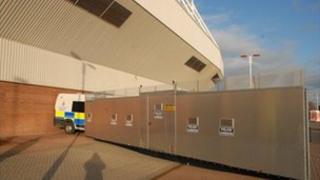 Fans who attended the Wear-Tees derby have been praised by police who said the number of arrests was very low.
Middlesbrough travelled to Sunderland's Stadium of Light for the FA Cup 4th round fixture, which finished 1-1.
About 34,000 supporters attended and there were 17 arrests for a variety of low-level offences.
To minimise potential conflict between the two sets of fans Northumbria Police utilised metal barriers at various points on the route to the stadium.
A Northumbria Police spokesman said: "Seventeen arrests out of a crowd of that size is very low.
"I'm pleased that the vast majority of fans who attended... were clearly there to enjoy the football and were not interested in engaging in disorder."