Nuisance neighbours: 'People too afraid to complain'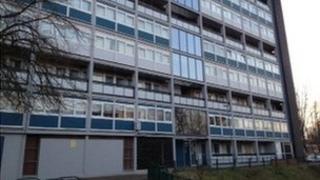 The government's proposals on tackling nuisance neighbours will make no difference if people are too afraid to complain, according to one woman who says she has been dealing with a problem neighbour for two years.
Susie Wong, who lives in George Poole House in the Spon End area of Coventry, said the anti-social behaviour she has to endure includes drug and alcohol use, dog fouling and violent behaviour, including physical fights late at night.
But she said most of her neighbours were too scared to go to court over the problem tenant in the block of flats where she lives.
Ms Wong said even if people were not afraid, in a lot of cases a problem neighbour only affects those living closest so it would be unlikely five households would get involved.
She said she had been working with her housing association to try to have her neighbour evicted but the problems had been going on before she even arrived at the property, with other neighbours too afraid to complain.
Ms Wong, who lives with her partner and 12-year-old son, in a housing association flat, said she had called the police and also filled out a log for her local council to provide a record of the behaviour.
'Not taken seriously'
"The problem with the new proposals is needing five complaints will not work," she said.
"The problem with my neighbour has been ongoing for a total of five years, that's three years before I moved here.
"Most of my other neighbours are afraid to complain as you have to be prepared to go to court should the local housing authority take it that far.
"I am prepared to stand up to anti-social behaviour but most people are scared in case those involved are not removed, and if they are removed they will know the people involved in their eviction."
She said people often did not want to "get involved" with a nuisance neighbour.
She added that she wondered if problems were dealt with more effectively on more affluent estates.
She said: "I'm not from Coventry but it seems people here are not taken seriously because of where they are from.
"You wonder if you lived in a nicer part of Coventry you'd be treated differently by the police."
'Last resort'
A spokeswoman for Whitefriars Housing, which manages George Poole House, said they understood residents' fears at speaking out.
She said: "We understand it can be daunting for an individual to stand up against anti-social behaviour and therefore until the last week no residents were willing to complete incident reports that provide the level of evidence that we require to use in court to address the perpetrators' behaviour."
She added they were currently taking action to tackle the anti-social behaviour affecting Ms Wong and other residents in George Poole House.
"Whitefriars, together with the police and council, have been liaising with residents regarding the ongoing anti-social behaviour and over the last couple of months the nuisance has escalated to a level where legal action can be taken," she said.
She added that the association used a "variety of tools" to tackle anti-social behaviour, such as injunctions, Asbos, closure notices and acceptable behaviour contracts, with eviction used as a "last resort".
"We will always support residents so that they feel empowered and safe to give evidence against perpetrators, because without this we are unable to take the necessary legal action and secure the desired outcomes in cases like this.
But Ms Wong said one neighbour's concerns should carry enough weight to spark an investigation.
"If you have police logs and you have one neighbour complaining that should be enough for a council to say 'There's a problem'."