Snow traps up to 100 motorists on M40 for many hours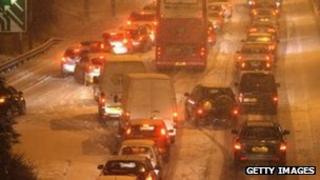 Heavy snow has caused widespread travel disruption across England.
Up to 100 motorists were stuck on the M40 between Junction 4 High Wycombe and Junction 9 Bicester because of the weather for more than three hours.
Flights at many airports across the country have been either delayed or cancelled, with Stansted briefly shutting its runway during the night.
Roads are described as treacherous in many areas leading to calls for drivers to take more care.
One motorist told BBC News he had spent more than seven hours stuck in traffic in his car on the M25 in Hertfordshire.
The RAC's Kevin Andrews said heavy snow and sub-zero temperatures would create "a dangerous cocktail of driving conditions" and urged drivers to stay at home where possible.
The motoring organisation said it had attended 70% more breakdowns than normal while a spokesman for the AA said it had dealt with around 1,500 call-outs per hour.
Unsafe speeds
The Highways Agency has extended its amber alert until 09:00 GMT, meaning there is a "high probability" of severe snow and a risk of difficult driving conditions.
Thames Valley Police said snow ploughs were taken on to the M40 to clear it of snow after about 100 vehicles were stuck on the road from about 21:00 GMT until 00:30.
Tom Jones, who was stuck on the M25, said there was a "nose-to-tail standstill" on sections of the motorway in Hertfordshire as he tried to make his way home to Harrow in north-west London.
"We joined the back of a tailback, never realising we would be spending the night on the motorway," he said.
Mr Jones said he saw lorry drivers fall asleep in their cabs, having given up hope of getting out of the queue during the night.
He had to get out of his car at times to wake drivers up whenever the queue started moving.
Although Mr Jones was frustrated by the lack of information he had received from authorities, he conceded the Highways Agency was dealing with "some particularly special driving".
Before the jam, he said, he saw many motorists were "hurtling" along at unsafe speeds.
Flights cancelled
The heaviest snow fell after dusk on Saturday with Met Office severe weather warnings applying to much of the country.
Forecasters predicted 5-10cm (up to 4in) would fall in central, eastern and southern England.
BAA announced on Saturday that one-third of Sunday's flights from Heathrow would be cancelled.
It said it had made the decision early in an effort to minimise disruption to passengers.
British Airways has said it will allow passengers scheduled to fly on Sunday to re-book for journeys between Monday and Thursday.
A list of which flights will operate will be available on the Heathrow website.
Passengers travelling through Gatwick were warned to expect some disruption and delays, with cancellations remaining a possibility.
A spokeswoman for London Stansted said the airport was temporarily closed during Saturday evening for snow clearance but reopened at 23:45 GMT.
She added that flights were due to take off from the airport from 06:10 GMT and that it was "expecting normal flight operations" on Sunday.
A spokeswoman for London Luton airport said it closed its runway at 21:45 GMT on Saturday because of the snow.
Ten incoming flights were diverted to other airports, while three departing flights were cancelled.
The spokeswoman added that Luton was expected to be open in the morning. She advised passengers to contact their airline directly for information.
Elsewhere, flights were cancelled or delayed at Birmingham Airport as snow was cleared from the airfield and runways.
A spokeswoman for Birmingham Airport said six flights were cancelled and 11 were diverted to other airports, including Manchester, Glasgow, Luton and Stansted.
Airport staff had hoped to reopen the runway by 02:00 GMT, but it was about 06:00 before it opened.
Leeds Bradford remained open but according to its website the adverse weather conditions "may cause some disruption to flight schedules".
Air passengers have been advised to contact their airline for more information.
Fall-related calls
In Greater Manchester, forecasters have warned of icy conditions on untreated roads after snowfalls and temperatures of about -2C.
The North West Ambulance Service asked people to stay indoors following an increase in fall-related 999 calls.
The BBC's John Hammond said south-east England and East Anglia was set for a "very snowy night".
"With temperatures close to freezing nationwide, it's not just snow we've got to worry about - it's ice as well. It will be a major concern up and down the country first thing in the morning," he said.
In the English capital, Transport for London (TfL) said that over 100,000 tonnes of salt was ready to put on the roads, more than before.
However, despite measures being put in place to safeguard the Tube service, the Jubilee Line was suspended, and there were part suspensions on the Metropolitan, Northern and Piccadilly Lines.
Seventeen year old Naomi Bridges from Essex said she had to walk along the track to South Woodford station after her Central line train broke down in the snow.
"We had to get off and walk along the track in the open air and the freezing snow until we reached the station fifteen minutes later... It was quite scary," she said.
Elsewhere, Jason Spinney from Sussex said he and about 30 others had been stuck on a train outside East Grinstead station for over five hours.
"We're immensely hungry. The train staff have given us water but there's no food. Luckily the train is quite warm," he said.
Matches postponed
Traffic problems were also reported in Stoke on Trent and East Yorkshire, where council workers were said to be battling to keep open roads across the Wolds.
February, traditionally the coldest month of winter, has seen daytime temperatures plunge four or five degrees lower than average over the past few days.
A temperature of -12.4C (9.7F) was recorded in South Newington, Oxfordshire, on Friday night - the lowest this season, the Met Office said.
The cold conditions are likely to continue into the early part of next week.
In Championship football, Saturday's games at Portsmouth and Doncaster were postponed.
In League One, frozen pitches meant only matches at Carlisle, Huddersfield, Sheffield Wednesday and Wycombe survived. All League Two fixtures bar Plymouth's with Southend were postponed.
Horse racing fixtures at Sandown and Wetherby on Saturday were called off. Sunday's meeting at Kempton will be subject to an inspection at 08:00 GMT.
Wolverhampton's all-weather meeting was abandoned after four races because of snow.