Charles Dickens' anniversary marked with new stamps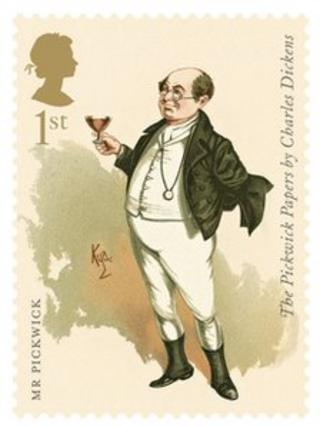 Two new stamps showing Victorian illustrations of Charles Dickens' characters have been unveiled to mark the novelist's birth bicentenary.
Mr Pickwick and Nicholas Nickleby form part of a set of 10 Royal Mail stamps to be issued on 19 June 2012.
Dickens was born on 7 February 1812 in Portsmouth, Hampshire.
Royal Mail spokesman Philip Parker said the novelist was a man "born into poor circumstance who went on to change the world in which he lived".
The Victorian author spent some of his youth in Chatham, Kent, had holidays in Broadstairs and died in Higham, near Rochester, in 1870.
Mr Pickwick features in Dickens' first novel The Pickwick Papers.
The illustration is from Character Sketches From Charles Dickens by Joseph Clayton Clarke, known as Kyd, originally published about 1890.
The Nicholas Nickleby stamp is from an illustration by Hablot Knight Browne, known as Phiz, who illustrated 10 books by the author.
The full set of stamps will include characters from novels including Oliver Twist, David Copperfield and A Tale Of Two Cities.