Shropshire football referee, 20, to officiate games in Dallas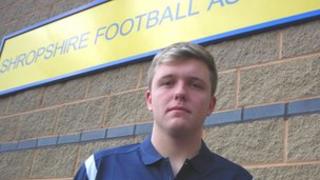 A football referee's role might seem a thankless job to some, but an ambitious 20-year-old undergraduate from Shropshire has already made great strides.
Fast-tracked by the Football Association (FA), Adam Dean joined a national development group at the age of 19, getting specialist advice from Football League referees.
He is now looking forward to going to Dallas to referee at a tournament featuring top young players from around the world.
But it all started by accident - when he was booked by a referee while playing in a game at the age of 16.
Mr Dean said: "She showed me the card and said that if I did the referees' course, she wouldn't put the booking in, which means it wouldn't go to the Shropshire FA and I wouldn't get a £10 fine - big money at 16!
"So here I am, took the referees' course and haven't looked back."
'Really nervous'
The official also overcame a memory lapse in his debut game as a referee - a visit, aged 16, to Whitchurch Alport in the Shropshire County Premier league brings back memories.
"I was really, really nervous, which showed at half time," Mr Dean said.
"I came out with the two sides... goalkeepers were fine, assistants were fine, 22 people on the pitch, went to blow the whistle [but] completely forgot that I'd left the whistle in the changing room.
"So I made a mistake there, didn't I?!"
But according to the Shropshire FA, the young man from the village of Ruyton-XI-Towns has "the potential to go very far" and "ticks all the boxes".
The official, in his second year of a sports performance and coaching course at the University of Worcester, is hoping to follow in the footsteps of the likes of Stuart Attwell and Michael Oliver, who were both Premier League referees at the age of 25.
Mr Dean is in his first season as a Level 4 referee, covering regional league matches for the first time and being independently assessed nearly every other game.
Premier League and Football League referees are described as Level 1.
Asked about his attributes, Shropshire FA referee development officer Sean Dipple talked about his willingness to learn, "his belief he can actually go on to do much better" and "the fact he's got personal qualities... he's a very confident young man".
Mr Dipple said: "Anybody can say that's a foul, but how do you manage someone who shows frustration?
'Enjoying the game'
"Your body language and management of players is a very important skill of refereeing and Adam's got that.
"Players will pick up on [your communication skills and expressions]. If you have a smile occasionally, it shows you're enjoying the game as well."
As for the self assessment of Mr Dean himself, the referee said: "Some would say I'm thick skinned. I take more dissent than probably others."
The Shropshire referee development officer said for the 20-year-old to reach Premier League level it could take "six or seven years, if it went really well".
He said the referee would have to be in the top four or five regionally to be considered for Level 3 and would then, at that national level, maybe have to be in the top six or seven to be considered for Level 2.
In the short term, Mr Dean said he was awaiting the week-long Dallas Cup for youth teams in early April, featuring the likes of Manchester United, Paris Saint-Germain and clubs from Japan and Russia and "hopefully stars of the future".
So could he rub shoulders with them again in the future, if he reaches the Premier League?
The referee said: "Possibly so, if everything goes to plan. That's my objective."