Surfboard sales in memory of Timmy Mason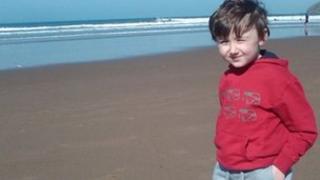 A surfer has started a series of auctions of his hand-made boards to raise money for a trust in memory of his son who died of cancer.
Surfboard shaper Tim Mason's son Timmy, from Cirencester, Gloucestershire, died aged seven in October 2011.
The Timmy Mason Trust was created to offer support to families needing extra help towards travel for treatments.
Mr Mason, who has worked for Ocean Magic in Cornwall, came up with the idea for auctions.
Timmy was diagnosed with Rhabdomyosarcoma in 2008.
Mr Mason said: "He was my biggest fan, so the auctions are a massive privilege for me.
"I'm going to try and make eight to 10 boards a year for auction."
Each board, worth about £550, is being auctioned on eBay.
Timmy, who had five older sisters, battled his illness bravely, his father said.
"He never cried. His spirit was very much to help others," he said.
"When Timmy died our battle against cancer did not stop. We wanted to continue fighting cancer.
"That way we did not feel the battle had been lost."
The long-term aim of the non-profit trust is to create a holiday home for families of cancer victims.
Mr Mason said: "We hope to help as many as we can, as best we can, and know this is exactly what Timmy would have wanted."