Kent rail links 'may become part of Boris's empire'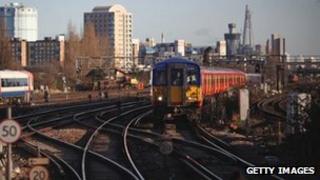 A Kent MP is meeting London transport bosses over fears that the city may take over the running of some of the county's train services.
Michael Fallon, who represents Sevenoaks, is concerned that his constituents could end up with a worse and more expensive service.
Boris Johnson believes routes to Dartford and Sevenoaks will improve if they are managed from London.
But Mr Fallon says many passengers cannot hold Mr Johnson to account.
Under the mayor's plans, responsibility for stations and services in several areas, including Southeastern's routes between London and the Kent towns, would come under the remit of his office and Transport for London.
'Slower services'
He said: "We think that with greater co-operation and integration we could deliver better services for the passengers, safer stations and less fare-dodging."
Mr Fallon believes it could result in slower services into London, stopping at more stations, and possibly higher fares.
He said: "Why should he set fares and service levels when my constituents can't vote for him?"
The MP is due to meet TfL representatives on Tuesday.