West Mercia Police freeze 2012-13 council tax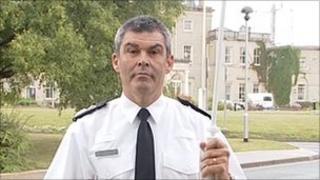 West Mercia Police Authority has agreed to freeze its portion of the council tax for 2012-13, despite facing a £38m budget cut over four years.
Chief Constable David Shaw said it was inevitable that there would be job cuts, but exact numbers would not be known until May.
He said a "strategic alliance" with Warwickshire Police Force would also help to meet savings.
The two forces announced last year they would share some resources.
Mr Shaw said the force would also find savings by using buildings and vehicles more efficiently, including reducing opening hours at some police stations.
'Sufficient reserves'
Salaries and pensions account for about 82% of the force's £210m budget, which made job cuts difficult to avoid, he added.
Owners of an average Band D property in the three counties will continue to pay £178.72 a year towards policing.
Last year research by HM Inspectorate of Constabulary (HMIC) revealed more than 1,000 jobs were likely to go at West Mercia Police by 2015.
About 90 officers and 200 civilian staff, such as PCSOs, have already left, although Mr Shaw said the force was holding on to many of its most experienced officers.
He added the force expected to complete the recruitment of 83 officers in the six months leading up to May.
The West Mercia authority is responsible for policing in Shropshire, Herefordshire and Worcestershire.
After the meeting at Worcester's Hindlip Hall on Tuesday, the authority's chair, Sheila Blagg, described the financial position as "healthy".
She said the authority had "sufficient reserves" to deal with many of the current budget demands.
The 2012-13 budget is the last to be approved by the authority, as it is due to be replaced by an elected police and crime commissioner in November.
The decision to freeze the policing element of council tax means that the authority can take advantage of a one-off grant from government.