PoW children mark 70th anniversary of fall of Singapore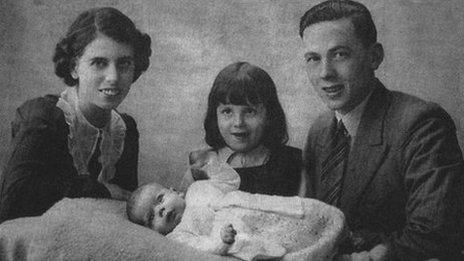 When Singapore fell to the Japanese during World War II thousands of British soldiers were taken prisoner.
L/Cpl William Smith was serving with the Royal Norfolk Regiment in Singapore when he was captured by Japanese troops 70 years ago.
He was herded into Changi Prison in eastern Singapore along with most of the other British prisoners and quickly caught diphtheria.
Due to his weakened physical state, the aspiring policeman avoided being sent to work on the Thai/Burma railway, dubbed the "Death Railway" on account of how many men died working on it.
However, like many other prisoners of war, he never made it back to his home in Great Yarmouth, Norfolk, and died of malnutrition, dysentery, malaria and a cardiac condition in a Burmese camp in December 1943, aged 28.
"I can vividly remember my grandmother and my mother visiting the school. They were all crying and I didn't know what was going on. I remember her saying go and sit on your mother's lap," his daughter Carol Cooper said.
Motivated by a desire to educate others about the prisoners' experience she set up Children of the Far East Prisoner Of War (COFEPOW) charity.
The charity will hold a remembrance service later in honour of all the PoWs who suffered and died in Asia at the National Memorial Arboretum in Staffordshire.
Mrs Cooper said: "We know so much about the Jews who died in the German concentration camps, but hardly anything in comparison about the 55,000 men who were sent out to the Far East, most of whom died of diseases and starvation or hard labour."
L/Cpl Smith left for war in October 1941 just before Mrs Cooper's second birthday.
As with many PoW families, her father's experience was not discussed openly in the family and it was not until her father's diaries surfaced in 1994 that she learnt anything of the horrors he had witnessed.
After being captured, her father had been assigned to the 'F Force' PoW group and was among the last to leave the Singaporean jail, on the pretext he was being sent to a camp for medical treatment.
He was loaded into a truck bound for northern Thailand and deprived of food and water for 36 hours at a time.
When the truck arrived at its destination in Ban Pong five days later, the survivors were made to march the rest of the way to Thanbaya camp in Burma, where they found a solitary canvas tent in place of the promised hospital.
Many men died of malnutrition and disease along the way.
In a typical diary entry addressed to his wife, L/Cpl Smith, wrote: "It's a case of plain murder. Eighteen men died in the tent last night.
"We are treated like pigs. We have no clean water to wash in.
"This piece of rag I have to keep myself clean with, you would not want to use it as a floor cloth Ida."
When he was captured he was reported missing by the British Authorities and his death was not officially confirmed until 1945.
Related Internet Links
The BBC is not responsible for the content of external sites.