Eye scanners at England airports turned off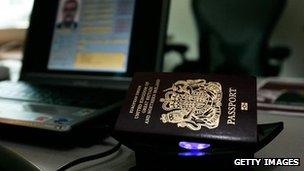 Hi-tech eye scanners have been switched off at two out of four English airports where they were operating.
The scanners, which were introduced in 2005, have been mothballed at Manchester and Birmingham airports.
They will continue working at London's Heathrow and Gatwick airports until after the 2012 Olympics.
A UK Border Agency spokeswoman said the government was reviewing the use of the scanners in the light of new technology.
The Iris Recognition Immigration System (IRIS) was first introduced into Heathrow in 2005 and rolled out at Birmingham, Gatwick and Manchester in the following year.
It works by photographing a registered passenger's iris patterns and storing the information in a database together with their passport details.
A Home Office spokesman said: "We are currently considering the future of IRIS in the context of our broader approach to automation at the UK border."
The spokesman added that IRIS registration had been halted.
The UK also operates e-Passport gates at 15 airports, which are open to UK and EEA nationals who hold an electronically-chipped biometric passport.
E-Passport gates use face recognition technology to compare the faces of UK and EEA passengers to images held in their biometric e-Passports.