Worcestershire Spitfire pilot launches fighter fund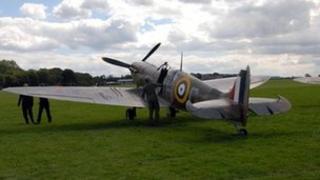 A 92-year-old World War II pilot from Worcestershire has been asked to launch a fundraising campaign to restore a Spitfire.
Eric Carter, from Chaddesley Corbett, served in the RAF from 1940-46 and flew in Spitfires.
The Potteries Museum and Art Gallery in Stoke-on-Trent wants to restore a plane presented to the city in 1969.
Mr Carter also flew other types of fighter but remembers the Spitfire as the best for taking of enemy fighters.
"If you were going to meet a Messerschmitt 109 I would pick a Spitfire," he said
The designer of the fighter, Reginald Mitchell, was born in Stoke-on-Trent.
Protecting convoys
Mr Carter served in the RAF from 1940-46, and was part of a secret unit sent to Russia in 1941.
He was based at the Russian port of Murmansk and flew missions protecting convoys and bombers.
"There was talk that if Murmansk fell then Russia would fall," he said.
He has already been to see the aircraft and said it is in "beautiful condition" on the outside but that its cockpit has been stripped.
The Spitfire had been displayed at the entrance gate of RAF Bicester, and was presented to the museum with a stripped-out cockpit.
Stoke-on-Trent City Council, which runs the museum, and the Friends of The Potteries Museum and Art Gallery are looking to raise funds to restore the fighter and set up an exhibition telling its story.
Mr Carter has been invited to a civic reception in Stoke-on-Trent to launch the campaign on Tuesday, 21 February.