Torture killer Colin Ireland dies in Wakefield Prison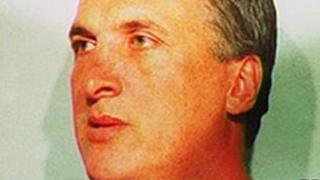 A former soldier jailed for life for torturing five gay men to death has died at Wakefield jail, the Prison Service has said.
Colin Ireland, 57, was given a whole-life tariff in 1993 for the murders.
Ireland was told he would never be released after admitting the murders of the men he met in London pubs.
A Prison Service spokeswoman said it was presumed he had died from natural causes in the healthcare centre of the prison on Tuesday morning.
Known as the "gay slayer", Ireland reportedly posed as a homosexual to be taken to each of his victims' homes, where he tortured and murdered them after making a New Year's resolution in 1993 to become a serial killer.
Inquiry 'hampered'
Ireland, who terrorised London's gay community, was caught later the same year when CCTV footage showed him with his last victim.
The Prison Service spokeswoman said the death would be investigated by the Prisons and Probation Ombudsman.
The spokeswoman said: "Colin Ireland died in HMP Wakefield's healthcare centre today at 9.20am.
"He is presumed to have died from natural causes; a post-mortem will follow.
"As with all deaths in custody, the independent Prisons and Probation Ombudsman will conduct an investigation."
In May 2007, a report by the independent Lesbian Gay Bisexual Transgender Advisory Group found that the Metropolitan Police inquiry into the murders was "hampered by a lack of knowledge of the gay scene in London and the special culture of S&M bondage".