Fog delays HMS Vengeance sailing up River Tamar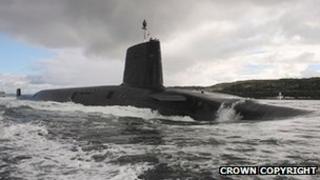 Plans to temporarily clear a Devon river of ferries and boats to allow the submarine HMS Vengeance to pass have been postponed because of fog.
The Torpoint and Cremyll ferries on the River Tamar were due to stop between 09:20 and 10:30 GMT on Thursday.
The Ministry of Defence said the move was needed because Vengeance was larger than other submarines which sailed to the city's Devonport Dockyard.
The vessel is believed to be remaining offshore from Plymouth.
Torpoint Ferry managers confirmed that services were operating as normal.
Nuclear deterrent
Vanguard class submarine HMS Vengeance is one of four submarines in the Royal Navy fleet that can carry nuclear missiles.
It is the newest of the four Trident-carrying, Faslane-based strategic missile boats that make up the UK nuclear deterrent force, and was launched in October 1998.
Plymouth's Devonport Dockyard has a £5bn contract to refit the Vanguard class vessels.
They are berthed in a specially-converted dock because they are too big for the yard's other docks.
The 150m (492ft) long vessel has a submerged displacement of nearly 16,000 tonnes and a crew of 135.
In comparison, Devonport Naval Base's Trafalgar class submarines are only 85m (279ft) long.