Rail passengers in East Anglia benefit from cycle cash boost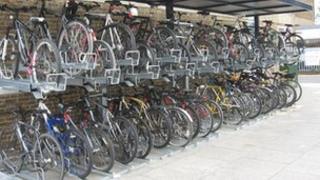 Rail passengers in East Anglia are to benefit from a share of a £15m fund to improve facilities for cyclists.
More parking spaces and bike hire options will be provided at stations in Essex, Cambridgeshire, Norfolk, Hertfordshire, and Bedfordshire.
Train operators First Capital Connect, Greater Anglia and London Midland bid for the Department for Transport cash.
In addition, councils including Suffolk and Northamptonshire have been awarded funding to improve cycle routes.
The DfT Cycle Rail Working Group funding is intended to "make cycling safer and more convenient", while reducing carbon emissions by encouraging commuters to use bicycles.
Government money for a total of 22 schemes in the region has been "match funded" by local authorities, train operators and private investors.
'Real boost'
A 3,000-space "cycle hub" is planned for Cambridge station, and a 500-space hub at Chelmsford.
Both will have improved security including CCTV and maintenance facilities.
In addition, a further 15 stations across the Greater Anglia network will be provided with bike hire facilities.
Based on a Dutch model, passengers at these stations will be given the option of purchasing a hire bike for a day when they buy their train ticket.
Speaking on behalf of the Cycle Rail Working Group, Michael Roberts, chief executive of the association of train operating companies said: "Train companies and the rail industry as a whole recognise the important role cycling plays in our growing railway.
"The Cycle Rail Working Group has been working hard on how we can improve cycle-rail provision further.
"This money is a real boost to the group's work and is good news for passengers.
"It will allow the industry to extend and develop cycling facilities across the country, offering more people a low-cost and environmentally friendly way to get to and from the station."